Meet the Management Team
Director of Inclusive Education
Director of Community Partnerships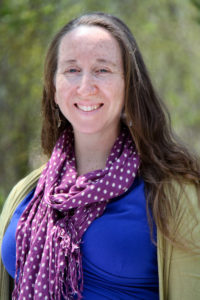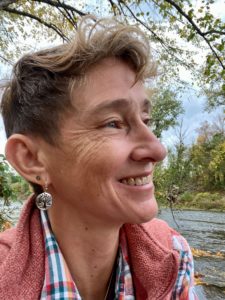 Alexandra Turner is a teaching artist, professional development instructor, and Inclusive Arts Specialist. Alexandra works with all ages in a variety of settings including public and private schools, preschools, galleries and community programs. In addition to residencies and workshops for students and community members, Alexandra works with statewide organizations to develop and lead professional development workshops for teachers, Teaching Artists, after-school and early-childhood professionals. Alexandra joined the staff of Inclusive Arts Vermont in 2018 after three years of working as an independent contractor for Start With the Arts, Adults Arts, Arts to Smarts, and professional development programs. She brings over ten years of experience in teaching artistry. Alexandra holds a BA in Studio Arts and an M.Ed. in Arts in Education. Alexandra is an multidisciplinary artist working mainly in kiln-formed glass and digital photography.
Through her art and teaching, Alexandra investigates light, nature, and narrative and enjoys helping others to notice the beauty in the world around them and the joy in experiencing art.
When not making art or leading arts experiences, Alexandra can be found hiking, swimming or paddling with her family and dog.
Heidi Swevens enjoys people, stories, and connections. Their first summer job was at a childcare center where they engaged with toddlers and infants. After experiencing changes in their vision a couple years later, they returned to school and earned a Master's Degree in Social Work from the University of Vermont (UVM) in 2001. Since that time they have worked in and served a variety of organizations whose missions relate to people with disabilities, older adults and families and communities. One volunteer role led to a synchronous opportunity to show their photography in a solo exhibit they titled "Do You See What I See?" which was part of UVM's Disability Awareness Month's events in 2006.
Heidi was first introduced to VSA Vermont when one of her photographs was accepted in the 2011 Engage Exhibition, a juried show featuring artists with disabilities. After that initial experience, Heidi was eager to get involved with the organization including the first BOOM VT drum festival. When a staff position became available, they moved into a more formal role with the organization.
Heidi currently focuses their time with the organization's system level efforts including professional development, capacity building, and exhibitions. As part of Inclusive Arts Vermont's professional development team, Heidi engages with learners of all ages and appreciates developing curriculum that gets at the heart of understanding and increasing inclusion through the arts. They believe communication and accessibility can be approached as forms of art. Heidi also values the connections made with artists who have participated in the organization's professional exhibitions and is excited to explore additional ways to support artists with disabilities.
Heidi enjoys nature, trees, rivers, hiking, snowshoeing, zip lining, writing, and much, much more. They also enjoy taking photographs of both the adventures and the simple details that remind them meaning and beauty are present in the everyday ordinary elements of life.
Director of Adult Arts Education and Professional Development Expansion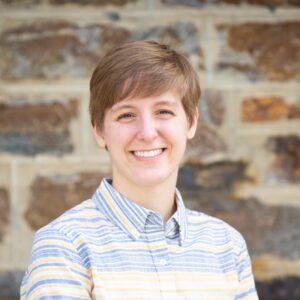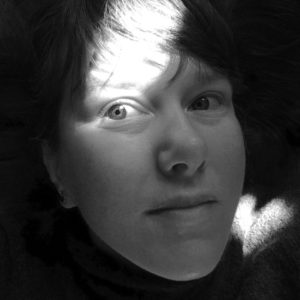 Kirsten Martsi is an arts educator with 15 years of experience in arts and disability service non-profits. Kirsten started her career in the disability field working at summer camps for children and adults with disabilities before working as an independent living counselor for adults with learning disabilities. She holds a BA from Hamilton College in English Literature and Classical Languages, and an MA from the Cooperstown Graduate Program for Museum Studies, where she focused on art history and museum education. Since graduate school, Kirsten has worked in art museums, a botanic garden, and a municipal arts council, doing community engagement work, curating art exhibits, leading hands-on art making, and planning public programs.
Kirsten is passionate about accessibility and inclusion, and has sought out opportunities to learn in community about ways to make institutions more equitable and inclusive. She looks forward to continuing this work at Inclusive Arts Vermont through the Professional Development program.
As an artist, Kirsten enjoys exploring fiber art as well as watercolor and pen and ink illustration. Her current focus is on quilts, connecting with a family history in quilt-making and exploring slow hand-making techniques. As a teaching artist, Kirsten has taught knitting, nature journaling, watercolor, quilting, punch needle embroidery, weaving, and other media. She is excited to bring her experience as a teaching artist to support and teach with the Adult Arts Education programs at Inclusive Arts Vermont.
Kirsten enjoys long walks and cross country skiing with her family, finding new swimming holes in Vermont's rivers, tackling big DIY projects with no previous experience (like reupholstering a chair), and learning new ways to make art.
Megan Bent joined the management team at Inclusive Arts Vermont as the Digital Content Manager. She received her BFA from the School of Visual Arts in NY, NY, and her MFA and Graduate Certificate in Disability Studies from the University of Hawaii at Manoa.
Megan is a chronically ill/disabled lens-based artist interested in the malleability of photography and the ways image-making can happen beyond using a traditional camera. She is interested in using photo processes that reflect and embrace her disabled experience; especially interdependence, impermanence, care, and slowness. Her art has been exhibited domestically and abroad. You can check out her art at www.meganbent.com
Megan is passionate about working at the intersections of art and accessibility. She comes to Inclusive Arts Vermont with experience in making online content and virtual events accessible. She gets a lot of joy and fulfillment from working behind the scenes to create access to IAV's digital content from writing image descriptions and alt text, transcribing interviews, or being present at virtual events for access support.
Director of Early Childhood Programs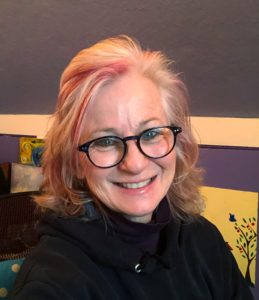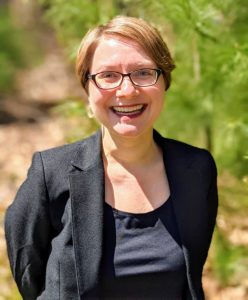 Peggy Rainville holds a BFA from Massachusetts College of Art and has over 20 years of experience leading children and adults on creative adventures. She is inspired by nature, little children, animals, and love.
In 2000 Peggy began her time at the organization as a teaching artist and in 2009 became the full-time Director of Children's Programming (now the Director of Early Childhood Programs). In this role, Peggy leads Start With The Arts and the other children's programming. She is continuously updating the programs to keep them relevant to the current needs in Vermont and keeps herself inspired by continuing to work in Start With The Arts as a teaching artist.
Peggy is committed to the mission of Inclusive Arts Vermont and to encouraging joy, creative self-expression, and professionalism. She carries this to her work outside of Inclusive Arts Vermont, as a visual artist in her art studio. In addition to creating her intuitive paintings and pottery, she encourages others to connect to, or reconnect with, the power of their creativity, and to find the magic that it holds.
Peggy enjoys spending time with her family, in nature, in her wildflower garden, with her horses, as a honey bee whisperer, a cuddler of cats and dogs, and all things creative.
Sarah Brown is the newly minted Executive Director of Inclusive Arts Vermont. Her background includes roughly two decades of experience leading and scaling operations, programs, teams, budgets, communications, and fundraising, the majority of which have been in the nonprofit sector.
She most recently served as Executive Director of Faith Communities Today, a national interfaith research initiative, and Project Director of Exploring the Pandemic Impact on Congregations, an expansive national study led by Hartford Institute for Religion Research at Hartford International University.
Over the past several decades, she has strategically bolstered the capacity, processes, and innovation of a wide range of organizations across the U.S., including the Vermont Ethics Network, Fair Labor Association, VNAs of Vermont, Center for Congregations, and numerous others.
Sarah has a deep passion for the arts, intersectional justice and anti-oppression work, with past experience as a Gallery Director, undergraduate studies in art history and arts management, and widespread volunteerism that informs her approach to advocacy and systems change. She is also the Co-Founder of Loving Day Vermont, which celebrates the 1967 Supreme Court decision that legalized interracial marriage in the U.S. (Loving v. Virginia), fights racial prejudice through education, and builds community across the state among multiracial families and individuals, interracial couples, and others who support the right to love who we love.
An avid lifelong learner, Sarah holds a Certificate in Nonprofit Management from the University of Illinois at Chicago, a Certificate in Executive Leadership from Babson College, a Certificate in Leadership and Communication from Harvard University, and will soon be receiving her MSc in Business and Management from Northumbria University (Newcastle upon Tyne, UK).
She is excited to bring her extensive experience building relationships with donors and partners, developing long-term strategies for enhancing programmatic goals, crafting budgets and phased plans to support program growth, supervising a remotely based team and personnel practices, and creating systems and processes that support long-range sustainability to this role. She is also enthusiastic about strengthening accessibility within Vermont's cultural sector and deepening educational and professional opportunities for artists with disabilities.
A Kentucky native with stints spent throughout the Midwest and East Coast, Sarah moved to Vermont in 2012 and is delighted to have made her home here since. In her rare but wonderful free moments, she enjoys writing poetry and children's stories, traveling, thrifting, watching British house-hunting shows, and cultivating a love of creative self-expression in her daughter.
Meet the Teaching Artist Team
Evie Lovett
Jennifer Kelmar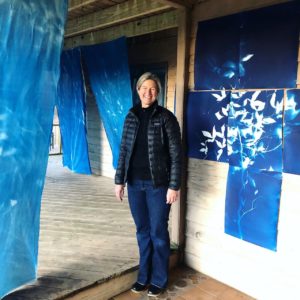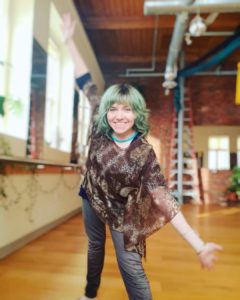 Evie Lovett: artist, teacher, teaching artist, parent, photographer, facilitator of story sharing, encaustic painter, collaborative maker of public art, dedicated to connecting people to each other and place through art, story, and active participatory engagement.
website: www.evielovett.com
Instagram: @evielovettencaustic
Hello! My name is Jennifer Kelmar and I teach dance/Improvisation with Inclusive Arts. I live in Burlington where I'm a student at the University of Vermont studying psychology, religion, and dance. As a dancer and a person with a disability, I'm passionate about making dance more accessible to everyone. I like to explore dance not as technical study of choreography but as a creative art that looks different with every body type and with each individual's unique style of expression. Teaching is new to me as I'm going on my second year as an instructor, but it has quickly become one of the most rewarding ventures of my life thus far. Everyone has a story and I'm delighted to observe how people embody theirs through dance.
Lisa Aschbacher
Melissa Sallée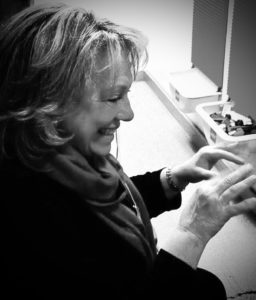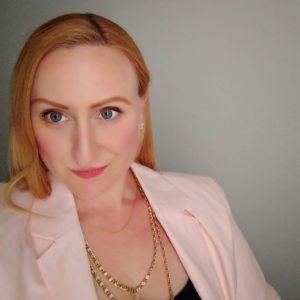 Lisa Aschbacher has enjoyed the privilege of teaching children and providers in Start With The Arts program since 2007. For the past 50 years she has been known in roles as an artist, teacher and arts administrator. Her journey with SWTA has taught her the value of creatively engaging our youngest learners at a time in their lives that discovery is paramount to development.
One of her greatest joys has been witnessing each child's unique abilities, as they have learned and thrived at their own pace. Partnering with providers, has also created lasting relationships. It has been compelling to find ourselves enriching each other's teaching methods and inspiring new ideas.
Lisa believes creative expression lifts the spirit, often at a critical time in many of our lives. Through this program and throughout life, repeatedly, she describes witnessing evidence that even the smallest success plants the seed for future creative growth and self esteem. It is her passion to be in the midst of the process where those seeds are planted and become the gateway to blossoming both personally and artistically.
Melissa Sallée, a classically trained ballerina who studied with Maria Tallchief, Salt Creek Ballet, and Ballet Chicago, and was the Co-Director of Dance Detour, the first integrated, professional dance company in Chicago. Sallée helped found ReinventAbility, a nonprofit where she used movement to benefit newly-disabled veterans. Additionally, Sallée has served those with severe physical disabilities and eating disorders using trauma-informed embodiment coaching. Currently, she is using expressive visual arts in her placement as an artist-in-residence at two therapeutic schools working as a Teaching Artist with Inclusive Arts Vermont.
Sallée is sought after for creating professional artistic works for dancers with varying abilities. In addition to her over 30 years working in the creative sector, Sallée is a longtime fierce and loyal advocate who has worked with the Congressional Arts Caucus and as an Illinois Delegate. Sallée continues to serve on regional and municipal task forces and with think tanks to improve Universal Access, Disability Rights, and access to the arts, most recently with Boston Dance Alliance's Dance & Disability Cohort.