The Inclusive Arts Vermont Board of Directors is comprised of community members and meets monthly to oversee and guide the direction of the organization.
Interested in applying to be on the Board of Directors?
Contact Katie Miller, Executive Director, for an application form.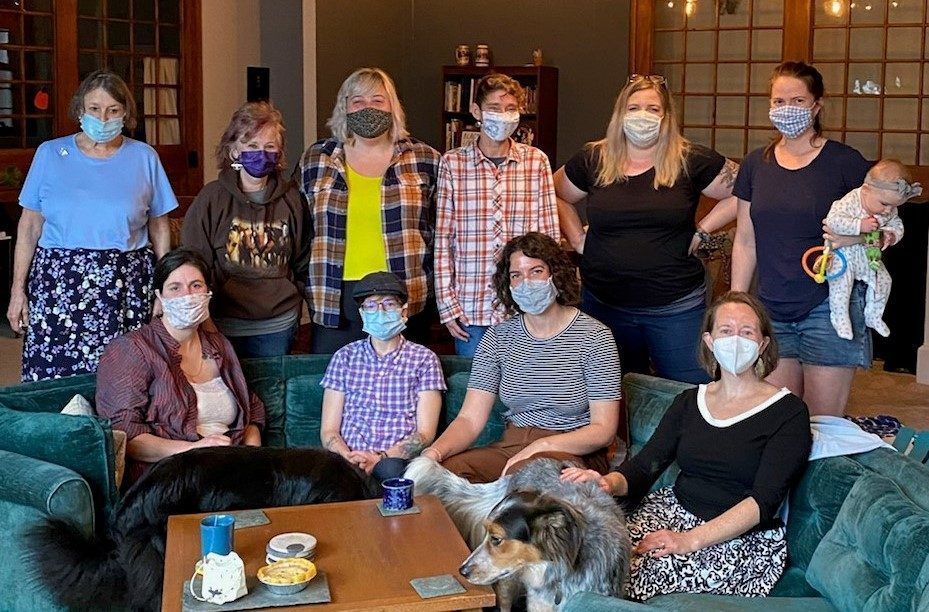 Board Members
Abbey Pratt
President (November 2021 – Present)
Member (June 2021 – Present)
Abbey writes "The work of Inclusive Arts Vermont is so important because everyone deserves to feel connection, and our communities are stronger when we celebrate everyone's voice.  Dance has been the greatest gift in my life, and the arts have provided me with community and an outlet for personal expression that has formed my entire identity.  Having local, affordable dance opportunities in Vermont early on in my life was a huge privilege, and after spending eight years in California, I'm excited to be back in my home state to invest in the community that shaped me."
Abbey studied Dance at UVM and has performed at the Flynn Theater, UVM's Dancing Uphill, Tiffany Rhynard's Everyone Can Dance, and competed with multiple dance companies in San Francisco.  She is a Burlington resident and works as a Sales Operations & Business Consultant with early-stage technology startups.
Debbie Krug
Treasurer (September 2021 – Present)
Secretary (October 2016 – September 2021)
Member (January 2015 – Present)
Debbie Krug is dedicated to the work of Inclusive Arts Vermont because she sees how essential it is that every person and every body can engage their creativity and confidence. She is an artist of wood, natural items, and textiles since her teens, and she has been an adaptive sports guide with Vermont Adaptive Ski and Sports since 2004. Debbie leads by organizing art gatherings, book discussions, and beginner hockey scrimmages. She also serves on the board of the ONE Good Deed Fund in Burlington's Old North End neighborhood.
Heidelise Corriveau
Secretary (September 2021 – Present)
Member (July 2016 – Present)
Heidelise writes: "Without knowing it, my first experience with VSA was when my youngest sister, who has Down Syndrome, participated in the drumming program when she was in high school. It brought out her confidence and challenged her to move out of her comfort zone (she does not like loud noise). She was really proud of that experience, as she still has a picture of herself drumming on her bedroom wall to this day. I found out more about [Inclusive Arts Vermont] when I moved back to Vermont, and I realized that it is experiences like this that the organization offers, which I want to be a part of. I believe that art has the ability to help people express themselves in ways that they might not be able to in other parts of life, and I think that is beautiful. The biggest passion I have in my life is working with and being in community with people with disabilities, and I feel the most alive then. I am currently a speech and language pathologist working in a school, and a lover of gardening and all kinds of plants. I'm so happy to be back in Vermont with my husband and family."
Ruth Gminski
Member (February 2016 – Present)
Ruth, a Burlington resident, has her Bachelor's from Goddard College in child psychology and early childhood education, along with graduate courses in music and dance. As Ruth told us, "I'm a retired early education specialist, having taught for 40 years. I got involved with the organization in a drum-making workshop with children and then again at the BOOM VT festival. I like to give my time to something that is valuable."
Jean Cherouny
Member (June 2021 – Present)
Jean writes: "Being on the Inclusive Arts Vermont Board is about strength of character in a time where a dichotomy of injustice and celebration need to merge. I joined after being a participant in the ANEW Exhibit where I found bonding with members and staff." Jean is an artist who uses wheels of all sorts to create dynamic art pieces and interactive creative experiences.