Click here for the Masked Audio Tour.
Click here to download the verbal descriptions for the show.
Click here to download the short verbal descriptions for the show.
Click here to download the artist statements and biographies.
Click here to download the Price List for art in the exhibition.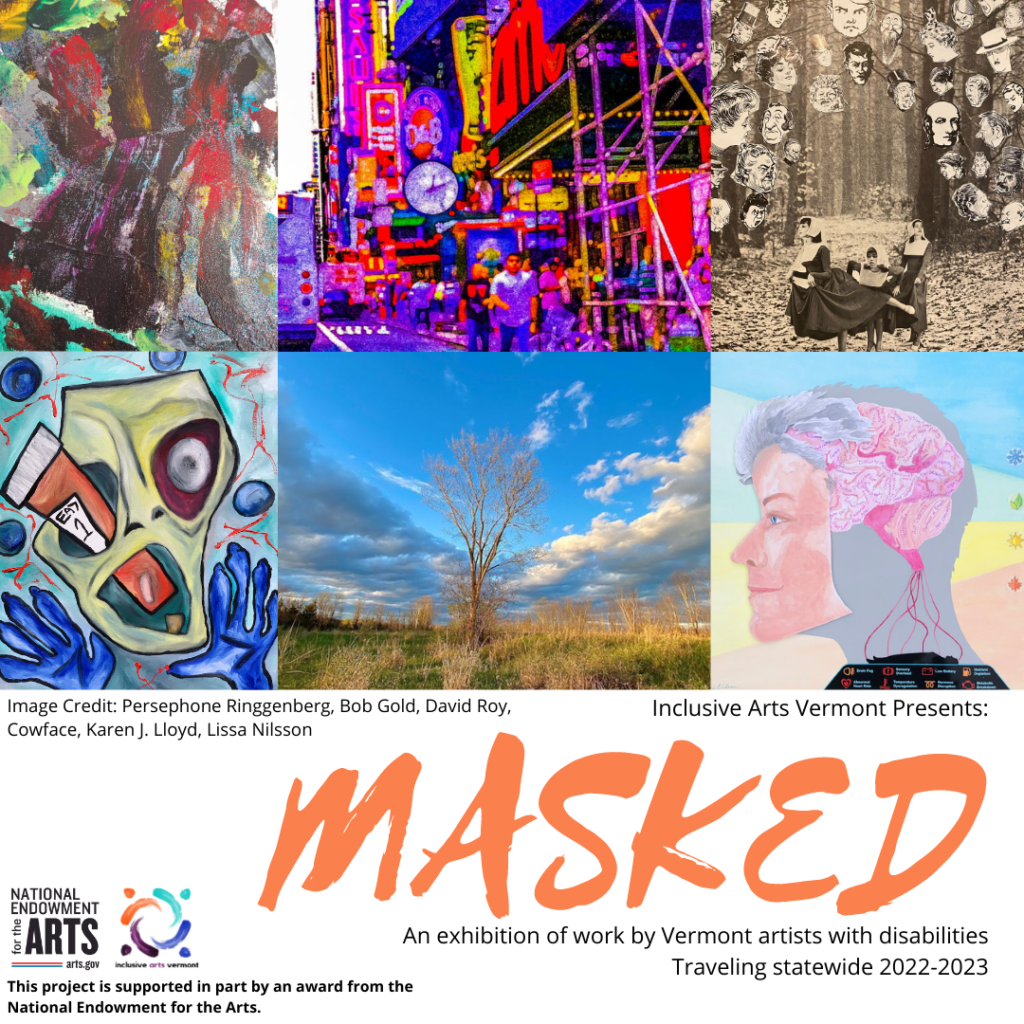 About the Exhibition
MASKED features visual artwork by 22 Vermont artists with disabilities. Each piece offers the artist's creative expression of the title – which arose in the early moments of the global pandemic. The work included is as complex and layered as the meaning of the word "masked" itself. The artists explore protection, disguise, veiling, all that is enshrouded, and what lies beneath.
The exhibition traveled statewide from January 2022 through May 2023. Tour sites include:
MASKED was made possible by funding from the National Endowment for the Arts, Vermont Humanities, the Vermont Arts Council, the Fountain Fund, and a group of generous individuals.
For more information:
Email exhibitions@inclusiveartsvermont.org or call 802-238-5170.
Masked Virtual Artist Talks
We hosted 13 virtual artist talks with MASKED artists on Facebook Live.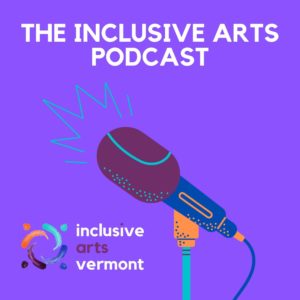 Join Inclusive Arts Vermont for discussions on all things arts access in Vermont and beyond. The podcast features interviews with artists featured in the organization's latest exhibition, Masked, as well as conversations with community members.
The Masked Selection Process
Inclusive Arts Vermont invited Vermont artists with disabilities to participate in MASKED.
Artists were asked to submit works that represented their interpretation of the theme of MASKED. The theme arose in early moments of the global pandemic, but like many words, "masked" has nuanced and layered meanings. Possibilities for interpretation could include wearing masks, masking and identity, cultural masks, and so much more. Inclusive Arts Vermont encouraged artists to interpret the theme and its meaning as broadly as it takes to inspire their creativity.
MASKED offered participating artists opportunities to be featured in statewide publicity, build larger audiences for their work, and receive technical assistance in the professional documentation and presentation of their work.
All exhibition host galleries were physically accessible and the exhibitions provided accessible program and communication features coordinated by Inclusive Arts Vermont. This included, but was not limited to: verbal descriptions, audio tours, large print, braille, and gallery tours.
Jury Members for the art selection process:
---
History
In 2012, we hosted Engage, a traveling, statewide exhibition of work by Vermont artists with disabilities. In 2018, we again partnered with the Flynn Center for the Performing Arts and the VT Association for the Blind to present FLOURISH, an exhibition featuring the work of 36 artists with disabilities. The show was on view at the Flynn's Tarrant gallery for 3 months and featured works in acrylic, oil, and watercolor; drawings in ink, pastel, crayon, and charcoal; photographs, ceramics, weaving, and mixed-media sculpture and assemblages. The exhibition received an overwhelmingly positive response, with the opening reception welcoming hundreds of visitors. In 2020, we opened ANEW, a touring exhibition featuring the works of 29 Vermont artists with disabilities. ANEW opened, only to be sidelined by the pandemic. However, we moved the exhibition to a digital format, hosted digital artist talks, digital panels, and eventually, were able to display the exhibit publicly at Dartmouth Hitchcock Medical Center and the T. W. Wood Gallery.
"I was validated, and with quiet breath, am able to finally at least whisper tomyself, that perhaps I am an 'artist'. The experience was exhilarating, fun, and has given me a great deal more confidence in my artistic ability than ever before. I am so grateful to VSA for all the opportunities granted to me with this experience."

Gail Wheeler, Participant Artist
As part of these exhibitions, we offer a full range of accessibility services including print materials in braille and large print, an audio tour, verbal descriptions of every work in the show, and specialized tours for people with low vision or blindness and memory loss.
For more information about exhibitions, contact Heidi Swevens, Director of Community Partnerships.