Applications due September 15th. Sites begin programming starting in October.
Fill out application below or email Peggy (peggy@inclusiveartsvermont.org) to participate in this free award-winning program.
NOTE: Sessions can be in person, or if needed, can be a hybrid of in person and virtual, depending on the needs and schedules of providers. We will work with you to develop a schedule and delivery method that works best for you.
APPLICATIONS:
Tier 1 SWTA Application – Home Providers
Tier 1 SWTA Application – Childcare Centers
Tier 2 Family & Community Engagement Application

Start With The Arts (SWTA) focuses on instilling a lifelong love of reading and strengthening the quality of early childhood education across Vermont. It is an award-winning arts-based literacy program for childcare providers and the children in their care.
We also offer a six-week SWTA course made just for families of young children ages 2-5! Scroll down to for more information.
SWTA couples direct service to children with professional development for providers in both home-based and small center childcare sites. Since 2006, SWTA has engaged more than 3,000 children and 500 childcare providers in every county of Vermont.
The most important lesson I have learned from this program is that every child has their own unique way of learning at their own pace. I now enjoy looking at all the masterpieces the children in my care have made and seeing their developmental skills within their art. I have always enjoyed reading books and love to see the kids in my program grow to love and value books as much as I do.

Participating Provider
SWTA is absolutely free of charge for participants, thanks to the generosity of our supporters and contracting agencies. The program runs twice per year, takes place at the provider's location, and is scheduled individually to meet each providers' needs.
Participating providers are eligible to use the hours completed to apply to a variety of state credentialing programs, including STARS and Advanced Specialized Care.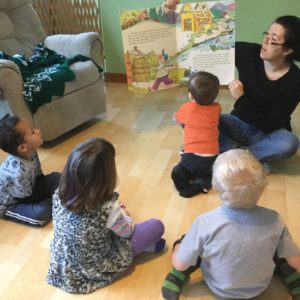 There are two tiers of the program for childcare providers:
Tier 1: Start With The Arts
In SWTA, using the above-described methods, model lessons are provided directly to children in the classroom by Inclusive Arts Vermont teaching artists, after which the provider delivers their own arts-based literacy lessons.
How it works:
Weekly, our teaching artists model and present quality children's books and engage children in exciting performing and visual arts activities. Next, the teaching artists support the providers in delivering their own arts-based literacy lessons. Additionally, professional development gatherings are held outside of childcare hours. The program culminates in a public display.
This program has also been adapted for therapeutic childcare centers, meeting their specific needs through arts-based literacy activities and play-based learning.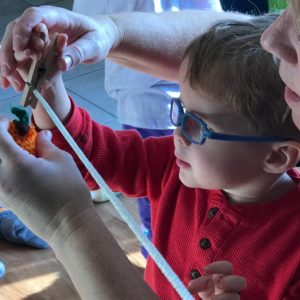 "I learned that art is subject to the eye of the beholder; what I may think the project should look like is not important when developing and encouraging creativity in a child."

Participating Provider
Tier 2: Family & Community Engagement
Tier 2 focuses on engaging families and caregivers in a child's learning, both in and out of the childcare environment. This section of the program is a second tier of professional development for providers who have already completed Tier 1.
How it works:
In Tier 2, providers design and deliver their own activities, under the guidance of an Inclusive Arts Vermont teaching artists. The activities invite families to gradually increase their engagement with a child's learning through the following sequential activities:
Out the Door: Brief, low-risk introductory arts-based literacy activities completed as families enter/leave childcare.
Bring Back: Families bring low-cost materials from home to help children create a group project during childcare hours.
At Home: Families receive books and materials to engage in arts-based literacy activities at home.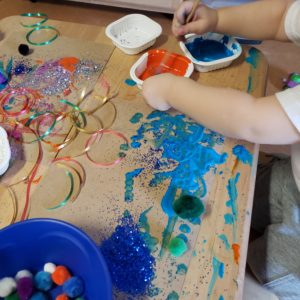 "I'm closer to my families; trust is on a different level. I moved out of my comfort zone. I'm problem-solving with parents."


Participating Provider
To learn more, or to receive an application, contact Peggy Rainville, Director of Early Childhood Programs.