Click here for information on our 2022 Exhibition: Masked.
Click here for the ANEW Audio Tour.
Click here to download the verbal descriptions of artwork in the show.
Click here to download the short verbal descriptions of artwork in the show.
Click here to download the artist statements and biographies.
Click here for the price list in audio format.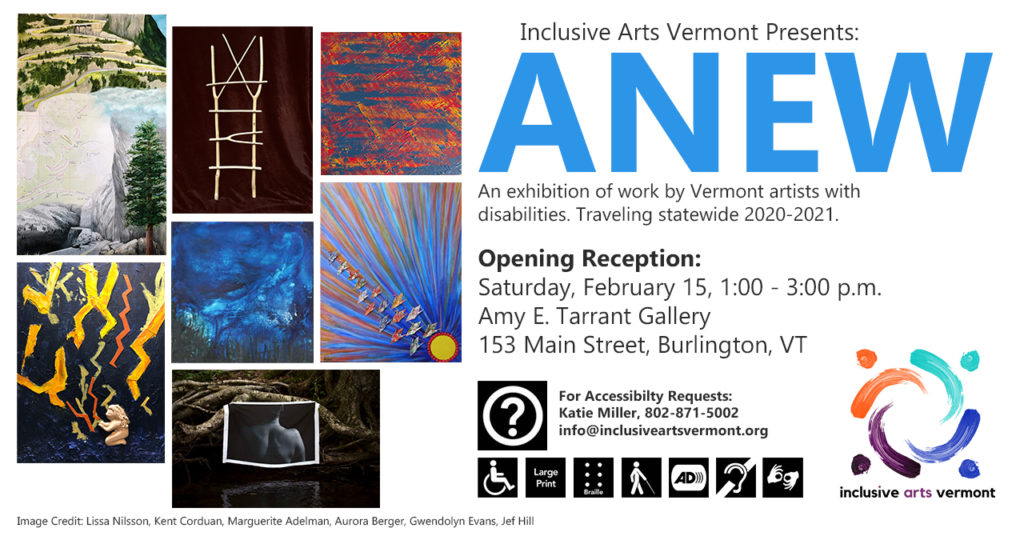 ANEW
ANEW is the latest Inclusive Arts Vermont exhibition showcasing works by Vermont artists with disabilities. This is a traveling exhibition of work by 29 Vermont artists with disabilities. The included artwork represents each artists' unique interpretation of the title – highlighting beginnings, doorways, fresh starts, and opportunity. The mission of Inclusive Arts Vermont is to engage the capabilities and enhance the confidence of children and adults with disabilities.
Click here to view an interview with Gwendolyn Evans, Heidi Swevens, and Katie Miller about the exhibition.
A verbal description of the video is available here.
The show features numerous accessibility features, including large print and braille documents, verbal descriptions of all artwork, tactile representations, and specialized gallery tours.
ANEW will open at the Flynn Center in Burlington on February 15, 2020, and travel statewide to the following locations:

Dartmouth Hitchcock Medical Center, Lebanon, NH: October 6, 2020 – March 29, 2021
T.W. Wood Gallery, Montpelier: May 1, 2021-June 25, 2021
Presented with support from: Vermont Community Foundation Arts Endowment Fund, the Vermont Arts Council, and Fountain Fund.
ANEW Artist Talks
From Fall 2020 through Spring 2021, we're holding monthly virtual talks with artists from the ANEW exhibition. Talks are held the 2nd Wednesday of the month at 6:30pm on Facebook Live.
For all videos, full transcripts and verbal description links in description on YouTube.
History
In 2012, we hosted Engage, a traveling, statewide exhibition of work by Vermont artists with disabilities. In 2018, we again partnered with the Flynn Center for the Performing Arts and the VT Association for the Blind to present FLOURISH, an exhibition the work of 36 artists with disabilities. The show was on view at the Flynn's Tarrant gallery for 3 months and featured works in acrylic, oil, and watercolor; drawings in ink, pastel, crayon, and charcoal; photographs, ceramics, weaving, and mixed-media sculpture and assemblages. The exhibition received an overwhelmingly positive response, with the opening reception welcoming hundreds of visitors.
"I was validated, and with quiet breath, am able to finally at least whisper tomyself, that perhaps I am an 'artist'. The experience was exhilarating, fun, and has given me a great deal more confidence in my artistic ability than ever before. I am so grateful to VSA for all the opportunities granted to me with this experience."

Gail Wheeler, Participant Artist
As part of these exhibitions, we offer a full range of accessibility services including print materials in braille and large print, an audio tour, verbal descriptions of every work in the show, and specialized tours for people with low vision or blindness and memory loss.
For more information about exhibitions, contact Heidi Swevens, Director of Community Partnerships or Katie Miller, Executive Director.