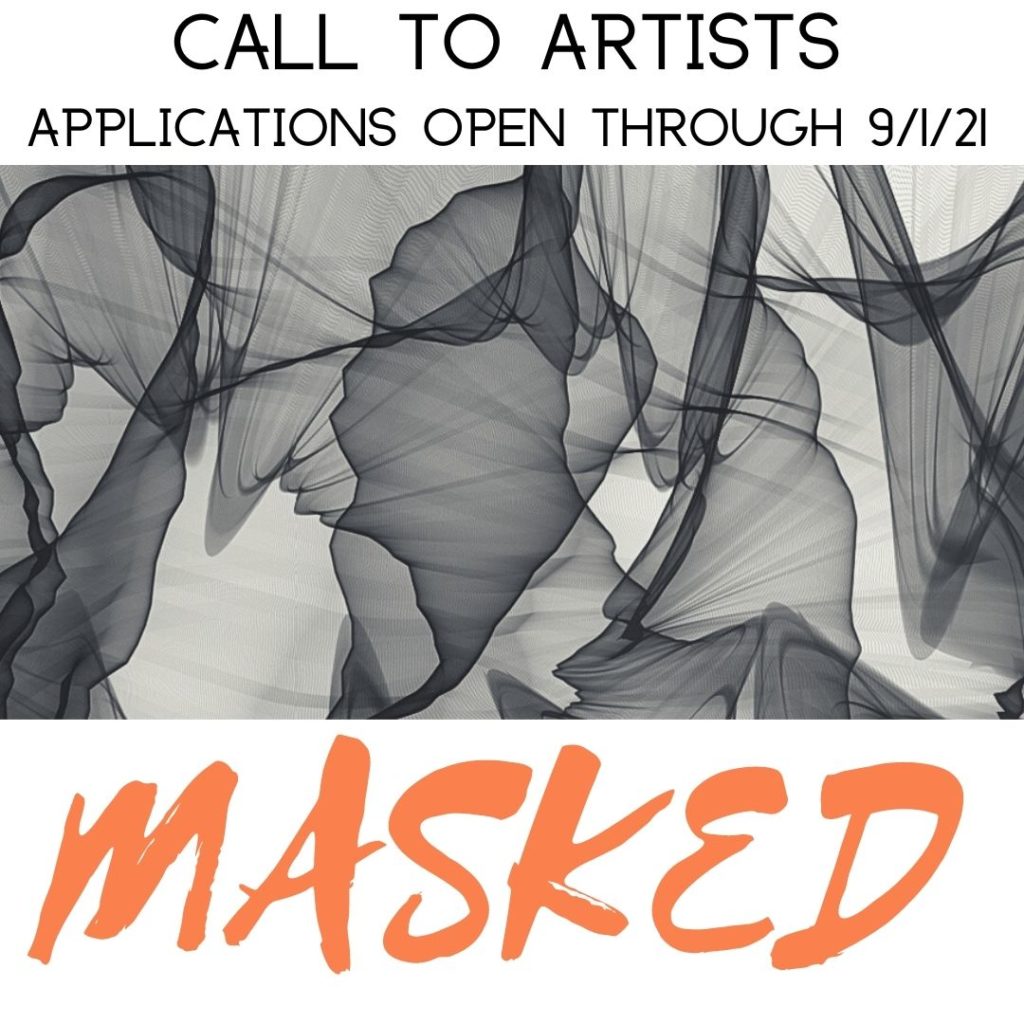 Call To Artists Announced & Applications for Masked, the 2022/23 exhibition are open!
Applications are open for Vermont artists with disabilities, 18 years or older. For details, application and exhibit logistics, and more information, read the Call to Artists or read more about the theme and exhibition history below.
Applications will be accepted now through September 1st, 2021.
Submit completed applications thought any of the following methods:
Email: exhibitions@inclusiveartsvermont.org
Postal Mail: Inclusive Arts Vermont, ATTN: Exhibitions, 21 Carmichael Street, Suite 206, Essex Junction, VT 05452
Inclusive Arts Vermont will hold four digital sessions to answer questions about the application process. These will be held via Zoom.
Application Assistance Session Dates:
August 10, 2021,10 – 11am
August 10, 2021, 6 – 7pm
August 24, 2021, 10 – 11am
August 24, 2021, 6 – 7pm

The 2022-2023 Exhibit – MASKED: An exhibition of work by Vermont artists with disabilities
Inclusive Arts Vermont invites established and emerging Vermont artists with disabilities to participate in MASKED, the organization's upcoming visual arts exhibition.
Artists are asked to submit works that represent their interpretation of the theme of MASKED. The theme arose in early moments of the global pandemic, but like many words, "masked" has nuanced and layered meanings. Possibilities for interpretation could include wearing masks, masking and identity, cultural masks, and so much more. Inclusive Arts Vermont encourages artists to interpret the theme and its meaning as broadly as it takes to inspire their creativity.
MASKED will offer participating artists opportunities to be featured in statewide publicity, build larger audiences for their work, and receive technical assistance in the professional documentation and presentation of their work.
The exhibition will travel statewide through the 2022 calendar year. Tour sites are still in process. If you are a venue interested in showcasing the exhibition, please email exhibitions@inclusiveartsvermont.org.
All exhibition host galleries are physically accessible and the exhibition will provide accessible program and communication features coordinated by Inclusive Arts Vermont. This includes, but is not limited to: verbal descriptions, audio tours, large print, braille, and gallery tours.
APPLICATION PROCESS:
Vermont artists with various disabilities, regardless of experience or formal training, who are at least 18 years of age or older are eligible to apply.
Applications will be available beginning August 1, 2021. Applications will close on September 1, 2021.
Applicants may obtain assistance with the application form from a support person, family member, or friend. Inclusive Arts Vermont staff are also available for assistance if requested. Artists should have direct involvement in the completion of an application when assistance is used, and artwork should only be produced by the applicant.
Eligible Artwork:
All media is acceptable as long as it can be hung on a wall and is less than 40 inches in length.
Works of art must be completed during the past five years.
Works of art must be original or numbered fine art prints in limited editions of 50 or less.
The artist's name should be visible on the front or back of the work.
Artwork must arrive to the organization ready to hang – Inclusive Arts Vermont will not be responsible for framing work.
We Cannot Accept Artwork That Is:
Fragile or contains precious materials that cannot withstand handling, storage, and transportation.
Free standing or cannot be hung on a wall.
Not original or that suggests plagiarism.
Work by artists not living in Vermont.
By artists no longer living.
For more information contact Inclusive Arts Vermont:
exhibitions@inclusiveartsvermont.org
802-871-5002
History
In 2012, we hosted Engage, a traveling, statewide exhibition of work by Vermont artists with disabilities. In 2018, we again partnered with the Flynn Center for the Performing Arts and the VT Association for the Blind to present FLOURISH, an exhibition featuring the work of 36 artists with disabilities. The show was on view at the Flynn's Tarrant gallery for 3 months and featured works in acrylic, oil, and watercolor; drawings in ink, pastel, crayon, and charcoal; photographs, ceramics, weaving, and mixed-media sculpture and assemblages. The exhibition received an overwhelmingly positive response, with the opening reception welcoming hundreds of visitors. In 2020, we opened ANEW, a touring exhibition featuring the works of 29 Vermont artists with disabilities. ANEW opened, only to be sidelined by the pandemic. However, we moved the exhibition to a digital format, hosted digital artist talks, digital panels, and eventually, were able to display the exhibit publicly at Dartmouth Hitchcock Medical Center and the T. W. Wood Gallery.
"I was validated, and with quiet breath, am able to finally at least whisper tomyself, that perhaps I am an 'artist'. The experience was exhilarating, fun, and has given me a great deal more confidence in my artistic ability than ever before. I am so grateful to VSA for all the opportunities granted to me with this experience."

Gail Wheeler, Participant Artist
As part of these exhibitions, we offer a full range of accessibility services including print materials in braille and large print, an audio tour, verbal descriptions of every work in the show, and specialized tours for people with low vision or blindness and memory loss.
For more information about exhibitions, contact Heidi Swevens, Director of Community Partnerships or Katie Miller, Executive Director.